Wyatt Blair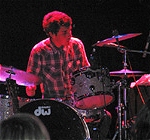 Wyatt Blair currently attends the Los Angeles Music Academy in Pasadena, California and studies with percussion icon Joe Porcaro, Ralph Humphrey (Frank Zappa and "Dancing with the Stars" TV program) and Dave Beyer (Melissa Etheridge and Christopher Cross). Wyatt recently attended the Summer Performance Program at the Berklee College of Music in Boston, where he studied with Kenwood Dennard (Sting, Jaco Pastorius, Manhattan Transfer) and Marty Walsh (Supertramp). Wyatt also studied at The Drum Lab with David Demeter where he attended master classes with Greg Bissonette and Walfredo Reyes, Jr.

Wyatt graduated from South Orange County School of the Arts ("SOCSA") at Dana Hills High School (marching band, concert band, jazz ensembles, "Oldies Night," "Broadway Night," and first chair drummer for the theater productions of "Hot Mikado," "The Wiz" and "Bye Bye Birdie"). Wyatt performed at the "SOCSA Showcase" at the Orange County Performing Arts Center (2007-2009) and at the Chicago Heritage Jazz Festival and San Diego Jazz Festival.

In 2009, Wyatt had the honor of being invited to be the drummer for an All-Star high school jazz quintet, Good Kharma, produced and mentored by CSULB music professor Ray Briggs Ph.D. Good Kharma performed all over Southern California.

Wyatt also attended the Orange County High School of the Arts (8th grade) and performed at the Reno Jazz Festival.

Wyatt has performed with various local musicians/bands at the Roxy (Los Angeles, CA), Knitting Factory (Los Angeles, CA), B.B. King's (Universal City, CA), The Coach House (San Juan Capistrano, CA) and many other local clubs.

Wyatt is currently working with a number of bands, including TRMRS and Mr. Elevator and the Brain Hotel. Wyatt also writes and produces original music in his recording studio.

Wyatt began his music career in his early teens as the house drummer for several years in a weekly "Pro Jam Night" band at the Wind 'N Sea in Dana Point. This opportunity with Martin Gershwitz (Iron Butterfly, Eric Burden) and Keston Barker (The Bus Boys) launched Wyatt's desire to pursue a career in music. Wyatt has previously taught at Danman's Music School in Dana Point. Wyatt has been playing drums since the age of 12.